No Deeper Roots or Blue Moon Americana shows playing  right now? There's a 24×7 collection of free form music to keep you company, streaming on our sister station Eclectic Spins! Visit the schedule here.
All times Pacific time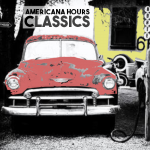 Saturday,  April 10 @9am on KOWS
Americana Hours Classics
We're gathering under the Americana tent this morning; well, I guess, technically, we do each Friday morning. But this week we'll spend some time with the classics. I'll be sharing mid-century highlights from east, west, north and south in a show that pays tribute to some of the classic performers and performances that codified what's become known as Americana: not a genre, but more of something in the air that makes you comfortable as a well worn blanket but also is the cold breeze that comes in through the cracks. I've got the celebratory sounds of The Blasters, Arlo Guthrie, and the NGDB; the painful reminders of days past from The Band, Chris Hillman, and Guy Clark; the harsh reminders of what got us here from Steve Earle, James McMurtry, and Bruce Springsteen. So much more to share in only two hours on Sonoma County Community Radio.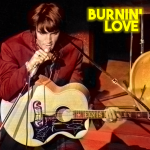 Thursday,  April 15 @Midnite on KOWS
Burnin' Love
A hunka hunka free form sounds this evening on Deeper Roots: some thoughtful pairings and some that just need to be pushed to the surface. Daylight Savings Time has arrived and we're preparing for the days to get longer shedding more light in the attic from the window up above. Songs today explore mojo, some gospel musings, concerns about a fellow named Lou whose got the flu, and some reflections on the 420 favorite. Performers include Julia Lee, Little Jimmy Dickens, Ivie Anderson, Lightnin' Hopkins, and we've even got an 'unknown' from the mid-century wondering "Who's Boogeying My Woogie Now". Imagine that. Well, imagine this: Friday mornings on KOWS Community Radio are made just for the beginning of Spring. Tune in.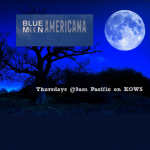 Thursday,  April 15 @9am on KOWS
Episode 300
While there was some consideration of celebrating quite madly our 300th episode, better and more sober heads prevailed. We're going with a fun collection of blue eyed soul serenades coupled with some sounds from Ben E. King and The Drifters to fill out our vintage sounds. Included in all of this are some highlights from one of the great interpreters of the sound: Willy DeVille. Oh, yes, and some Elvis, BB King and Dr. John to boot. And the new tracks are rolling in including a new album from The Fratellis, Jamie Lin Wilson, Joe Pug, and Allison Russell to introduce you to freshly baked sounds from the Americana kitchens. In addition, we've got a new track from Midland's latest, Amy Helm, and Hey, King! to keep you close at hand. Join Dave Stroud on KOWS Community Radio every Thursday morning at 9am Pacific.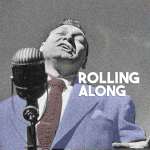 Friday,  April 16 @9pm on KRJF
Rolling Along
We're going to blend all the favorites into a delicious free form stew this morning, looking to the north, south, east and west for our inspiration. Not only do we have some Otis Redding soul, but we've also got some traditional blendings from David Johansen, The Devil Makes Three, and some southern fried sounds from James Lee Stanley and John Hammond. A lot of our playlist makes connections:  moonlight drives, Memphis tributes, and a lot about our title track 'rolling along'. I've also got a little splash of Frankie Laine for inspiration along those lines. Tune in on a Sonoma County Friday morning for more.