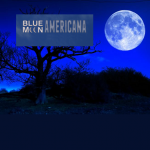 Thursday, May 24 @5am on KOWS
Episode 160
We're headed south along California's Central Valley in our vintage spot music this morning to celebrate the honky tonk sounds of Kern County. Buck Owens, Tommy Collins, and Merle Haggard are front and center in our playlists today. But they'll have good company with some great new sounds including John Prine, Joshua Hedley, Gretchen Peters, and Parker Millsap. It's a Blue Moon Americana morning here in Sonoma County every Thursday. Hope you can join us, if not earlier, then later.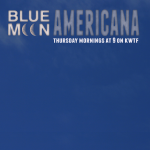 Thursday, May 24 @9am on KWTF
Episode 161
John Prine, Kelly Willis, Ry Cooder, and Dave Alvin headline the new sounds we'll be sharing on this Blue Moon morning here in Sonoma County. And frankly, that's barely scratching the surface. Throwbacks today are of the classic variety including performers like Roger Miller, Hank Cochran, and Patsy Cline. I've also got an extra helping of John Prine so that we all keep our heads down to earth and not too high up in the clouds.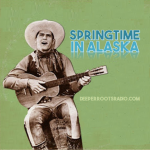 Friday, May 25 @9am on KOWS
Springtime in Alaska
Winsome sounds from every corner, opening with Johnny Horton and closing somewhere south of the Mason-Dixon line with the soul of Barbara Lynn. Today's show reaches into the jazz bins for something new and old…a Duke Ellington cover by Wynton Marsalis; gospel covers by Nick Lowe, tradition from Bill Monroe, and Johnny Cash along with a number of so-called Cash-a-likes. It's a free form collection in our Friday morning show from West County. So what's it all got to do with Alaska, you ask. Not much, only a great song name to suggest cool music and a Friday full of colorful music.
Friday, May 25 @9pm on KWTF
The Naughty Blues
For goodness sakes! We're going to toss aside our puritan ethics and look towards the sideways glances and double entendres for our inspiration this week on Deeper Roots. Songs about Sam The Hot Dog Man, keyholes, sugar bowls, poodles, jockeys, and lemons…all subjects that find their way in and around the blues in an auspiciously direct route to the heart of the matter. We've got the naughty blues today…songs that will encourage a blush or two…or three. We've got The Swallows, Lil Johnson, Emma Barrett, Tampa Red, and a host of other blues greats on a Sonoma County spring morning. Be sure to tune in and find your own blush point…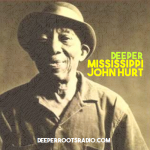 Saturday, May 26 @9am on KOWS
Deeper Mississippi John Hurt
Join us as we peer into the music of Mississippi John Hurt, performed by contemporary artists with some bits and pieces of his own music. We'll also feature some fragments from the original interview conducted by Tom Hoskins in 1963 after some simple sleuthing, in the town of Avalon not far from Hurt's boyhood home of Teoc, Mississippi. The story of his rediscovery after the sixties folk revival (and Harry Smith's original Anthology of American Folk Music) is legend. Sit back on a Friday morning and listen in for some of the great music of the minstrel from Teoc.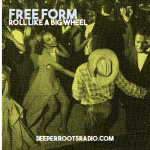 Monday, May 28 @Midnight on KOWS
Free Form – Roll Like a Big Wheel
We mix it up once again. Nothing like ending the week on a high note, a low note, and just the right mix of jazz, pop, rock, country, bluegrass, and R&B. You know it won't stop there because if it's one thing we do well is find all that is good in between the boards. Join Dave Stroud for music featuring tracks from The Boswell Sisters, Red Foley, Julia Lee, The Prisonaires, Mose Allison, and John Prine. Midnight madness in West County … where we say farewell to the weekend and stream our hearts out!
Coming Up In  May/June
Highway To Heaven
Dylan and the Gospel
Women of 60s Southern Soul
Carl Sandburg's Songbag Pt 1