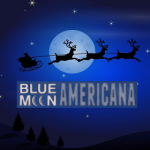 Thursday, December 20 @5am on KOWS
Thursday, December 20 @9am on KWTF 
Blue Moon Americana – Episode 189
We're going to treat ourselves to a bit of a Christmas hullabaloo this coming Thursday morning on Blue Moon Americana. Tune in for a raucous collection of Americana yule sounds including tracks from JD McPherson, Robert Gordon, Mandy Barnett, Kacey Musgraves, and a whole host of performers from the archives of Blue Moon. We'll take a bit of a time out from "The Week In Trump" as it appears the Southern District of New York has finally gotten the attention of a handful of Republicans in the Senate who now realize the goose is coming out of the oven and the knives are ready for the carving. Who knew? The majority of those who believe in what democracy is all about…that's who.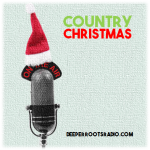 Friday, December 21 @9am on KOWS
Country Christmas
It's a holly, jolly, country Christmas on a Friday morning in West County. We'll put our political blinders on this morning in search of the merriment that 'tis the season on Deeper Roots. This year's Christmas special is a collection of country sounds, both new and old, that takes us down a path that mixes contemporary Americana, bluegrass, rockabilly, and classic country into a finely tuned blend of holiday cheer. We'll be cooking from the Texas panhandle with Dale Watson, taking the high lonesome yule train with Jimmy Martin, spinning yarns with Johnny and Tommy Cash, and dropping by the Waffle House with Bill Anderson. Tune in knowing full well that the dinner's in the oven and the stockings are all hung by the chimney with care. Merry Christmas to you and yours!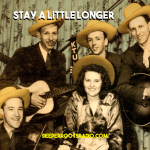 Friday, December 21 @9pm on KWTF
Stay a Little Longer
Country swing is the thing this morning on Deeper Roots. We won't be spending time on the ancestral roots as much as we'll be exploring the small local bands of the Southwest. We'll use Jean A. Boyd's excellent reference "Dance All Night : Those Other Southwestern Swing Bands Past and Present" as our rudder and guidebook in the show. The heartbeat of any American genre is usually the local band and during the later years of the Great Depression and throughout the Second World War people were looking for something uplifting to dance to. In Texas (and really all across the Southwest) the sound was country swing: a mix of jazz, blues, polka, latin and hillbilly fiddle. We'll be featuring the small time big names like The Tune Wranglers, Cliff Bruner, Leon Selph, Floyd Tillman, and Adolph Hofner and so many more in our show this evening.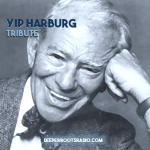 Saturday, December 22 @9am on KWTF
Yip Harburg Tribute
Yip Harburg was a songmaker. He was part of a select few in the early to mid-century who found their calling as lyricists, writing words that transformed music to story and story to film and Broadway spectacles. We could gloss over his contributions by simply saying "he's the guy who wrote Over The Rainbow or April in Paris or Brother, Can You Spare a Dime". But his career was more than that. It's no secret that Yip's politics were carefully crafted in song. The phrases "honky-tonk parade" and "Barnum and Bailey world" were veiled criticisms of the "phony as it can be" corporate and political leadership in America, written by a freethinking, socially conscious lyricist. Our show today will honor some of his best songs and include interview excerpts featuring both Yip and his son, Ernie.
Coming Up In December/January
Western Sunsets
Blues and Country Yule
Who We Lost 2018
Mambo Baby!