No show playing on Deeper Roots or Blue Moon right now? Fill in with some 24×7 sounds through our sister station Eclectic Spins!
Visit the schedule here.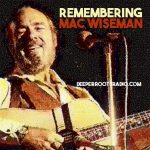 Saturday, August 24 @9am on KOWS
Remembering Mac Wiseman
Mac Wiseman spoke with a roots music magazine in 2006, reflecting on his career in music. "Not to sound too critical, but the 'bluegrass' classification was the worst damned thing ever happened to me," he observed. "Up until then I was getting as much airplay as Marty Robbins or Ray Price." But it was his voice, those golden pipes, that will be remembered sweetly. In 1946 he moved to Knoxville and found a gig playing with country singer Molly O'Day on radio and in the studio recording that would catapult him into a career in bluegrass; first with Lester Flatt and Earl Scruggs and then, Bill Monroe. We take some time to look at all sides of Mac's music, from bluegrass to country and rock to pop. A truly American treasure.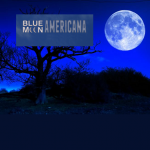 Thursday, August 29 @5am on KOWS
Blue Moon Americana – Episode 221
Today's show features the usual cross-section of new and vintage, straight from the studios of KWTF, down Art Alley, in Santa Rosa, California. Our show gets replayed the following Thursday on KOWS 92.5 FM and you can always count on the freshest of Americana sounds, spun up by your host, Sonoma County native, Dave Stroud. Tune in for some Sweetback Sisters, Elvis, new sounds from Trigger Hippy, Samantha Fish, and Beth Bombara this week. We'll open with something brewing on the mainstream that has some fresh kick to it: Tyler Childers, and more from the new Charley Crockett EP.  I don't know about you, but the madness and hate and lies have to stop. And I know that that will never happen at the top so remember…just over 450 days until we can cast our votes for true leadership.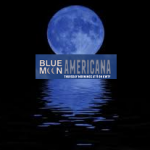 Thursday, August 29 @9am on KWTF
Blue Moon Americana – Episode 222
Well, that's a fine how do you do. Our 222nd episode on the 22nd. Surely worth a mention, don't you think. But alas, only the live show because we rebroadcast this show on KOWS on the 29th. That should not, however, stop you from tuning in because the Americana sounds are fresh as ever….I've been picking the choicest cuts from the roadside Americana stands over the past week and it's a wild, although sometimes subdued, celebration of the women of the genre including Linda Ronstadt, Aoife O'Donovan, Loretta Lynn, Ashley Monroe, and Wanda Jackson. Oh, a few of the fellows snuck in (Jack Klatt, Dalton Domino, and Tyler Childers) but the ladies are celebrated including new tracks from Ana Egge, Amy LaVere, and Beth Bombara. All of this straight from the studios of KWTF, down Art Alley, in Santa Rosa, California.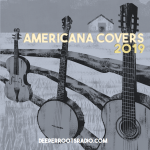 Friday, August 30 @9am on KOWS
Americana Covers 2019
There have been some great Americana sounds released this year and there is no sense in ignoring them, certainly. In fact, you can tune into Sonoma County Community Radio each week for Blue Moon Americana, broadcasting Thursday mornings at 5am on KOWS and 9am on KWTF. We'll be spending some time covering the covers of tradition and some from the contemporary well this week on Deeper Roots. Tune in for some great sounds…truly. Fun covers of blues, gospel, folk, country, and jazz from the likes of Whitehorse, Jesse Dayton, Steve Earle, Willie Nelson and Kristi Jean & Her Ne'er-Do-Wells. We'll hear everything from Amazing Grace to Redneck Friend this week on Deeper Roots. Check it out this Friday morning on KOWS, broadcasting live from the Cherry Street Historic District in Santa Rosa.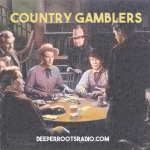 Friday, August 30 @9pm on KWTF
Country Gamblers
Gamblers, ramblers, casinos. Barstools, loaded dice, tumbling dice, poker hands, and the demon rum, and chance. Honky-tonks, Vegas, and craps…all for you on the country side. Join Dave Stroud for a high-falootin' time on Deeper Roots as the demon chance teams up with casino country in music. We'll walk the fine carpets of the Vegas casino as well as the sawdust floors of the country bar with performances by Buck Owens, Tex Williams, The Country Gentleman, and Jimmie Dolan. We're heading out west to pay a little bit of an homage to the gaming side of the stories this week on Community Radio for Sonoma County. Hope you can join in.
Coming Up
Deeper Memphis Minnie
Guns and Prayers
More Western Swing Time Sounds
Lookin' at Lefty (Frizzell)