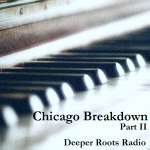 It's part two of our "Chicago Breakdown" series. In Part I, we explored the early days that promised what was to come but in Part II, we feel the warm wind of change from the south that would meet with the cold winds off of the Great Lakes. It created a vortex where jazz and barrelhouse would reign.
The urban cauldron in this city of big shoulders would fill with a sound that had its roots in the Mississippi Delta , from the cotton plantations and delta heat, and the juke joints that could be found down the side roads off of Highway 61. 

The Great Migration also provided those who relocated and found work with disposable income allowing them to establish a new life in a big city after the Great Depression and, most certainly, after the war. The resulting energy was inescapable in the clubs and barrooms throughout Chicago.