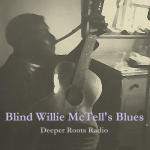 Blind Willie McTell was a gentleman songwriter and musician who could play and sing popular music and storied blues in the same voice. He could bring you into the story and emotion of a song while he picked in the Piedmont style and, with the supporting rhythm of Curley Weaver, painted a picture that could be visceral, or maybe light-hearted, sometimes stern in narrative, or whatever the mood or lyrics demanded. Bob Dylan's own poetry about Willie is summed up in the verses of his song "Blind Willie McTell", written in 1983 but not released by Dylan until 1991 on his "Bootleg Series 1-3":
        I can hear them tribes moaning
        Hear the undertaker's bell
        Nobody can sing the blues
        Like Blind Willie McTell
Join Dave Stroud for a new two hour episode highlighting the life, words, and music of Blind Willie McTell in this week's episode of Deeper Roots: A Century of America's Music, produced exclusively for KWTF 88.1 FM, community radio for Sonoma County.