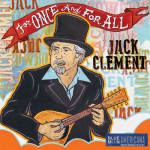 The year 2017 sounds like more of a threat than a promise….but we're not going to let that assuage us.  We still look at the promise of new sounds and the greater good to carry us across this new threshold. There's a lot of really (really) good new music coming out this month and next and we've got a sampling for you, including Hiss Golden Messenger, Chuck Prophet, Rhiannon Giddens, and local favorite David Luning. We'll open things up this episode with a tip-of-the-hat to the great Jack Clement, renaissance man and a songwriter whose mark has been stamped indelibly on the Americana songbook. Looking forward to your presence!
No.
1
Artist
Title
Album
Buy
2
Rodney Crowell
Ballad of A Teenage Queen
Texas Fed, Texas Bred: Redefining Country Music, Vol. 1
3
Cowboy Jack Clement w/ Pam Tillis
Let's All Help The Cowboys (Sing The Blues)
Lonesome, On'ry and Mean: A Tribute To Waylon Jennings \n(complete track list)
4
Jack Clement
The Spell Of The Freight Train
For Once And For All
5
Emmylou Harris & The Nash Ramblers
I Guess Things Happen That Way
At The Ryman [Live]
6
Cowboy Jack Clement
Beautiful Dreamer
Divided & United: The Songs of the Civil War
7
Ray Charles
A Girl I Used To Know
Complete Country & Western Recordings: 1959-1986 [Disc 2]
8
Hiss Golden Messenger
Biloxi
Heart Like a Levee (Deluxe Edition)
9
David Luning
Driftin'
Restless
10
The Band Of Heathens
Keys to the Kingdom
Duende
11
Courtney Marie Andrews
How Quickly Your Heart Mends
Honest Life
12
Chuck Prophet
Bad Year for Rock and Roll
Bobby Fuller Died for Your Sins
13
John Prine/Kacey Musgraves
Mental Cruelty
For Better, Or Worse
14
The Time Jumpers
Sweet Rowena
Kid Sister
15
Delbert McClinton & Self-Made Men
Like Lovin' Used to Be
Prick of the Litter
16
Ryan Adams
To Be Without You
Prisoner
17
Brigitte DeMeyer & Will Kimbrough
Everything
Mockingbird Soul
18
Ricky Skaggs & Bruce Hornsby
Across The Rocky Mountains
Ricky Skaggs & Bruce Hornsby
19
Rhiannon Giddens
Freedom Highway
Freedom Highway
20
Leon Russell
I Love The Way You Love Me
Snapshot
21
Southern Culture On The Skids
I Ain't Gonna Hang Around
The Electric Pinecones
22
Kentucky Headhunters
Jukebox Full of Blues
On Safari
23
Carey Ott
Speed Of Love
Nocona
24
Jim Lauderdale
Drive
This Changes Everything
25
The Dustbowl Revival
Only One
Busted – Single
26
Nikki Lane
Highway Queen
Highway Queen
27
Gillian Welch
Orphan Girl [Alternate Version]
Boots No. 1: The Official Revival Bootleg [Disc 1]
28
Trinity River Band
Steel and Blood
Better Than Blue
29
Dave Keller
Slow Train
Right Back Atcha
30
Robert Earl Keen
Feelin' Good Again (Live)
Live Dinner Reunion
31
J Shogren Shanghai'd
Swampland
Why So Blue Bird?