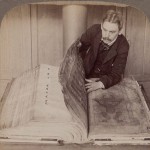 Some of the most revealing music I listen to hints at what's in store for humankind by expressing its own historical presence through dialect and direct purpose. It is done in the artistry of music, something that the children's author Hans Christian Andersen opined that "where words fail, music speaks".  Music is an essential component of our humanity and is an art like no other in that it is the most direct of all art forms. So I find that what's old to some may be new to me.
Finding music from the early 20th century is an exercise. Sometimes it is found buried in the wells of collector's catalogs that are priced beyond anyone's reach or in carefully curated and targeted anthologies. It can also be found on public domain sites curated by educational entities including the Library of Congress. Rest assured, it is no small effort to sit down early on a Sunday morning and browse these sites, including www.archive.org and Juneberry for items that, while sometimes poor in quality, reveal from behind that 'gauze of static' as faces long-since passed. But my Sunday mornings are rarely lacking reward whether that be a King Oliver jazz recording, rough blues from Blind Lemon Jefferson, or even an early century pop from an Annette Hanshaw.
When I think that I've heard it all, something new grabs my ear and imagination and drives me to later fulfill my curiosity by reading more about the artist, songwriter, or song. And that is what my show is about: sharing what I discover with the listener. My show is Deeper Roots: A Century of America's Music and airs on KOWS.fm on even Saturday mornings from 9-11 and on even Sunday and Monday nights from 10-midnight. For more information about my shows I'd encourage you to visit my web site at www.deeperrootsradio.com. The site also features links to my Facebook page as well as archives of over a hundred past shows.
Looking ahead, and speaking of musical archives, there are a handful of record labels that are indispensable to those who equally cherish the ephemera, no matter the luster, of American (as well as world) music. Join me on Deeper Roots over the coming months as I highlight these labels, not least of which are Document Records, The Dust-to-Digital label, The Numero Group, Tompkins Square, veterans Arhoolie and Yazoo, Old Hat, and Bear Family.