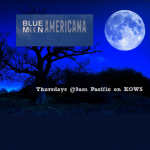 This show, broadcast Thursday mornings from 9 to 11 Pacific on KOWS 92.5 FM, features two hours of the newest Americana music out there and it's also where you can relive some of the classics, and hear from some of our local Americana artists.  We are broadcasting live from the KOWS studios in the Cherry Street Historic District of Santa Rosa, California, in the heart of Sonoma County. Stream us live Thursday mornings or download the KOWS mobile app at kowsfm.com/listen.
Coming up on Episode 382 Thursday, December 1
Neil Young's new album is out and there's even more…The Williams Brothers, Angela Strehli, and Chris Canterbury all have new releases and we'll be spinning them this coming Thursday on Blue Moon.  As we creep our way into December with all the trimmings we look back on Black Friday and Cyber Monday as an anomaly in this post-pandemic, post-Trump, post-truth world. Remember: stifling and preventing the education of those who can least afford it continues to be the right's big stick to wield power and combat the truth. An alternative reality is often the best way to make that happen and it's usually through 'magical deities', not science. We'll spend more time with music from Neil Young's career in our throwback selections this chilly Thursday morning in Sonoma County. Hope you can be there.
Links to past shows:
All shows from 2020
All shows from 2019
All shows from 2018
Last week's (Episode 381) show and playlist:
This week is a Thanksgiving temptation as we'll be sharing new tracks from Honey Harper, Loudon Wainwright III, The Dust Collectors, and the Lone Bellow to start things off on the 'new Blue Moon' side of things. Join Dave Stroud from the KOWS studios as he staves off his morning peckishness with hopes of a special spread on this 2022 turkey day where we give Thanksgiving for all we enjoy. Throwback sounds won't be in short supply as we make our way into the holiday season; but no jingling of the bells quite yet. Tune in as we celebrate Bruce Springsteen's new release and salute the states of Georgia with Gladys Knight, Pennsylvania with MFSB, and Arizona with a former member of Paul Revere's Raiders. So get ready to pop that bird in the oven and turn up the volume on a Thanksgiving morning.
1
2
00:00
Gladys Knight & The Pips
Midnight Train To Georgia
3
08:29
Arlo Guthrie
Alice's Restaurant Massacre
4
32:34
The Browns
Nevada
5
35:19
The Teskey Brothers
This Will Be Our Year
6
37:52
Bruce Springsteen
What Becomes of the Brokenhearted
7
45:34
Mark Lindsay
Arizona
8
48:22
The Lone Bellow
Honey
9
52:54
The Dust Collectors
Take A Dive
10
55:30
Slaid Cleaves
Through the Dark
11
58:45
Mark Knopfler/Paul Franklin
Do America
12
1:08:09
Joe Ely
The Gypsy Lady
13
1:11:22
Melissa Carper
Ramblin' Soul
14
1:14:09
Bruce Springsteen
All I'm Thinkin' About
15
1:18:20
Bruce Springsteen
Don't Play That Song
16
1:21:49
MFSB
TSOP
17
1:30:35
Loudon Wainwright III
Little Piece of Me
18
1:33:36
Jude Flannery
Don't Mind You Asking
19
1:37:43
Arlo Guthrie
City of New Orleans
20
1:42:06
Ruthie Foster
Soul Searching
21
1:45:56
Etta James
Let's Burn Down The Cornfield
22
1:52:10
Bruce Springsteen
Glory Days