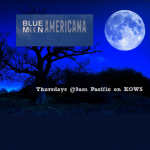 This show, broadcast Thursday mornings from 9 to 11 Pacific on KOWS 92.5 FM, features two hours of the newest Americana music out there and it's also where you can relive some of the classics, and hear from some of our local Americana artists.  We are broadcasting live from the KOWS studios in the Cherry Street Historic District of Santa Rosa, California, in the heart of Sonoma County. Stream us live Thursday mornings or download the KOWS mobile app at kowsfm.com/listen.
Coming up on Episode 367 Thursday, August 18
Rocking and rolling, swinging with the rhythm, and bringing you the very best of Americana here in Sonoma County. That's what we do every morning at 5 Pacific here on KOWS-LP 92.5 FM, Occidental. And on Thursdays….well it's a feast presented by KOWS Americana curator Dave Stroud. He takes the mike for two hours and this Thursday morning tune in for new tracks from The Great Get Gone, Florent Sivell, Bill Filipiak, Wesley Dean and a dozen others. They'll be supported by some of the mid-to-late century greats like Orbison, Big Joe, Mark Knopfler, and Tom Petty. KOWS FM signal has returned after a bit of a difficult move and the signal is strong along the Sebastopol corridor. But we still stream all across planet Earth, over the inter-web, on kowsfm.com/listen. Do listen.
Links to past shows:
All shows from 2020
All shows from 2019
All shows from 2018
Last week's (Episode 366) show and playlist:
Things are heating up here in Sonoma County. While we have mostly a dry heat, that also reflects the drought (bordering on desperate) that we've been experiencing over the past few years. Music is one of the few things that can lift us at any given moment. And we've got that for you this morning on Blue Moon as we fire up some new releases from the Vandoliers, Amanda Shires, Marcus Mumford, and Bill Filipiak. We'll also dedicate our vintage slots to some well preserved and favorite nuggets from the career of Elvis Presley who would have turned 87 next week. What a career. What a tragic example, however, of over indulgence and the expense of fame on ego. We'll be featuring some early career pieces and some covers to remind us that it's Americana in it's purest form. Join Dave Stroud for another Thursday edition of Blue Moon.
1
2
00:00
Gillian Welch
Elvis Presley Blues
3
09:05
Elvis Presley With The Jordanaires
Never Ending
4
10:59
Amanda Shires
Bad Behavior
5
14:32
Tami Neilson
Baby You're A Gun
6
17:53
Cassie Jean and the Fireflies
Tomorrow
7
21:13
Elvis Presley
The Girl of My Best Friend
8
27:27
Jake Blount
Once There Was No Sun
9
31:44
Marcus Mumford
Grace
10
35:54
Bill Filipiak
Love on Each Other
11
39:45
Kenny Roby
New Day
12
49:03
Tommy McLain
Sweet Dreams
13
52:21
Tommy McLain
Somebody (Radio Edit)
14
55:48
Dropkick Murphys
Two 6's Upside Down
15
59:09
Elvis Presley
Got a Lot O' Livin' to Do!
16
1:04:28
Dave Edmunds
Return to Sender
17
1:06:54
Vandoliers
Before the Fall
18
1:10:42
Miko Marks & The Resurrectors
One More Night
19
1:14:24
Cynthia Hamar
Shaken
20
1:18:24
Elvis Presley
Wear My Ring Around Your Neck
21
1:28:37
The Brother Brothers
That's How I Got To Memphis
22
1:32:11
Elvis Presley & The Jordanaires & The Imperials Quartet
Funny How Time Slips Away
23
1:36:29
Pearl Derringer
The Fool
24
1:39:47
Jimmy Buffett
Elvis Presley Blues
25
1:43:09
Elvis Presley
Judy
26
1:45:16
Sunny Sweeney
Easy as Hello
27
1:52:09
Jerry Lee Lewis
Let's Talk About Us
28
1:54:15
Elvis Presley
Pocketful of Rainbows
–