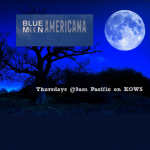 This show, broadcast Thursday mornings from 9 to 11 Pacific on KOWS 92.5 FM, features two hours of the newest Americana music out there and it's also where you can relive some of the classics, and hear from some of our local Americana artists. We are broadcasting live from the KOWS studios in the Cherry Street Historic District of Santa Rosa, California, in the heart of Sonoma County. Stream us live Thursday mornings or download the KOWS mobile app at kowsfm.com/listen.
Coming up on Episode 398 Thursday, March 23
Spring has sprung! Our state (including this county) continues to be making up for almost four years of drought as rain continues to visit every locale from North to South. But with Spring comes baseball so there's an upside. Americana music this morning will be a delightful mix of new and old with the throwback sounds focused on Iris DeMent performances in celebration of her new album which is a solid listen. We'll hear from her new album as well as new tracks from Daddy Long Legs, Laith, and James Intveld as we introduce you to new Americana sounds released over the past week. We've also got The Mavericks, John Prine, and Loudon Wainwright to take us around third and into home. Don't miss this week's show.
Links to past shows:
All shows from 2021
All shows from 2020
All shows from 2019
All shows from 2018
Last week's (Episode 397) show and playlist:
Blue Moon sounds coming your way on a Thursday morning, just around the corner from classic country, rock and somewhere beyond the dark and the dawn. This week we'll be featuring the songs of Butch Hancock, Joe Ely and Dave Alvin with a little bit of Gilmore and Kirchen. Couldn't be much more of the Americana brand than that. We'll also be spreading our wings with another heaping helping of new sounds including The Band of Heathens, Dom Flemons, Gruff Rhys, and Real Ones. Join us for a morning full of promise as blue skies break through here in downtown Santa Rosa, directly above the KOWS Community Radio studio. Live and livin' and streamin' on kowsfm.com/listen.
1
2
00:00
The Flatlanders
I'm Gonna Strangle You Shorty
3
07:03
Dom Flemons
Slow Dance with You
4
09:56
Sharayah
I'm Holdin' On To Something
5
12:54
The Flatlanders
Just About Time
6
21:41
Dave Alvin and Jimmie Dale Gilmore
Borderland
7
26:36
Dave Alvin
California Snow
8
30:28
Joe Henry
All The Eye Can See
9
33:52
Joe Ely
Dallas
10
43:03
Butch Hancock
When the Good and the Bad Get Ugly
11
46:51
White Owl Red
Just Another Heartbreak
12
50:44
Rachel Baiman
Self Made Man
13
53:31
The Blasters
Border Radio
14
1:01:57
Bill Kirchen
Little Bitty Record
15
1:05:12
Bill Kirchen
Somebody's Going Home
16
1:08:56
James Intveld
Lets Talk It Out
17
1:12:27
Dave Alvin and Phil Alvin
Papa's on the House Top
18
1:20:09
Gruff Rhys
I Want My Old Life Back
19
1:22:44
The Band of Heathens
Don't Let The Darkness
20
1:26:34
The War and Treaty
Ain't No Harmin' Me
21
1:30:21
The Mavericks
Ven Hacia Mi (Come Unto Me) [Conjunto Version]
22
1:35:38
Mya Byrne
Lend You a Hand
23
1:39:05
Dave Alvin
Abilene
24
1:39:52
The Blasters
Trouble Bound
25
1:52:25
Bill Kirchen
Devil With The Blue Dress (Album Version)
26
1:55:45
Real Ones
Breathe