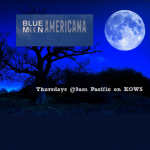 This show, broadcast Thursday mornings from 9 to 11 on KOWS 92.5 FM, features two hours of the newest Americana music out there and it's also where you can relive some of the classics, and hear from some of our local Americana artists.  We are broadcasting live from the KOWS studios in the Cherry Street Historic District of Santa Rosa, California, in the heart of Sonoma County.
Coming up on Thursday, April 22
As with Deeper Roots, we're observing Willie Nelson's 88th this week featuring a lot of throwback country classics from Willie including a track off of his latest album. And let's not forget that there is a whole lot of new sounds to mine in this week's show, including a couple of legends (Steve Cropper and Merry Clayton), some 'rockers' from not so far back (The Wallflowers and The Fratellis), as well as Leftover Salmon, The Teskey Brothers and Amanda Platt and the Honeycutters.  The weather promises a warming trend with no rain in store, unfortunately, so why not make the best of it. While we're not out of the COVID woods yet, we'll take advantage of another glorious Spring morning here in Sonoma County on 92.5 FM on your radio dial.  Hope you can drop by.
Links to past shows:
All shows from 2020
All shows from 2019
All shows from 2018
Last week's (April 15) show and playlist:
1
2
00:00
Willy DeVille
Who Shot The La-la
3
06:28
Jay & The Americans
This Magic Moment
4
09:20
Hey, King!
Get Up
5
12:08
Rose City Band
Lonely Places
6
21:29
Mink DeVille
Mazurka
7
23:57
Sammy Johns And The Devilles
Making Tracks
8
26:17
Ben E. King & The Drifters
Amor
9
29:16
Midland
Cowgirl Blues
10
37:10
The Fratellis
Six Days in June
11
40:46
Charley Crockett
Midnight Run
12
44:17
Pony Bradshaw
Foxfire
13
48:07
Mink DeVille
Mixed up, Shook up Girl
14
57:15
Melissa Carper
Makin' Memories
15
1:01:24
Leftover Salmon
Brand New Good Old Days
16
1:04:02
The Drifters
Please Stay
17
1:06:13
Amy Helm
Breathing
18
1:14:24
B.B. King & Dr. John
There Must Be A Better World Somewhere
19
1:18:06
Mink DeVille
Spanish Stroll
20
1:21:33
The Accidentals
Night Train
21
1:26:20
The Shootouts
Everything I Know
22
1:29:31
Elvis Presley
Burning Love
23
1:34:18
Todd Snider
Turn Me Loose (Ill Never Be the Same)
24
1:38:08
Jamie Lin Wilson
T Total Tommy
25
1:42:13
Jon Batiste
I Need You
26
1:44:46
Ben E. King & The Drifters
Don't Play That Song
27
1:50:26
Mink Deville
Daddy Rollin' Stone
28
1:53:37
Mink DeVille
Just to Walk That Little Girl Home