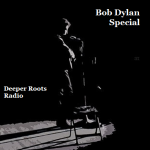 We wished Bob Dylan a happy 72nd birthday in 2013 by spending our two hour set celebrating his work by sharing songs he's written, performed by both his contemporaries and Dylan himself. We'll also hear some anecdotes relayed by Bob from a couple of different sources.
Since he arrived on the music scene in 1961 up until his latest release "Tempest", Bob Dylan has proven that he is a Renaissance Man, a musical entrepreneur, an actor, a radio personality, a sage spokesman for roots music, and a philosophical icon. To ignore Dylan's body of work in the context of roots music is to ignore a over a half century of the inspiration, influences, and relationships he's had with the many genres (and often the legends) of folk, jazz, blues, country, bluegrass, and gospel.
Join Dave Stroud as he shares a set of all songs written by Dylan including performances from Warren Zevon, Flatt and Scruggs, The White Stripes, and Eric Clapton.
This episode will be posted to Mixcloud in the near future.